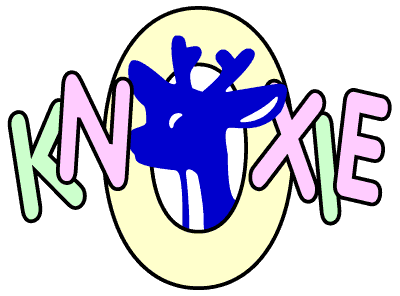 Peteykins' Knoxie Gallery
I have always been obsessed with corporate logos. One which appealed to me more than almost any other when I lived in San Diego was the cute little deer used by the Knoxage water company. Knoxage was (and may still be) one of the main suppliers of water coolers and bottled water to San Diego's business community, and each big plastic jug is lovingly emblazoned by the cute li'l logo, identified as "Knoxie," which always struck me as a cross between "toxic" and "noxious." Finally, in the late 90s, I worked at an art supply store which used Knoxage's services, so I was forced to obsess over Knoxie on a daily basis.
One thing I had always noticed was that the Knoxage drivers also seemed to be very fond of their official spokesmodel. Their trucks were lovingly emblazoned with hand-painted, quite Bambi-like versions of Knoxie (always identified by name). I wish I had pictures to spare of these rolling masterpieces, and anybody in San Diego is encouraged to keep their eyes open.
In December, 1999, my world was in the process of being turned upside-down and shaken like a snow globe. I was about to relocate to the District of Columbia after 17 years in San Diego. The company, which was moving me there to open a new store, was a little disorganized, and I ended up having nearly all of my gear, including all my painting and art supplies, packed away and ready to go weeks too early. I was stuck with nothing to do at home. I had already done several paintings of Knoxie at this point, so I decided to see if I could create a Knoxie-themed gag cartoon, puzzle, story, what-have-you, every day until I finally had to pack up the computer and leave. My coworkers (including the wonderful Monique Fuentes, who also came up with Knoxie's definitive voice) loved the project and egged me on, but what really excited me was that the Knoxage drivers loved it all, too, as they had previously loved the Knoxie paintings I had put on display in the store.
Below you will find all 20 of these love letters to Knoxie, drawn in Adobe Illustrator over a 20 day period, in the order they were created, with the exception of #1, which provides a vital warning about Knoxie's evil twin, Trotski. Some of them are better than others. They should be read in order. I've decided to keep them in their original black and white format, as that is how they were originally designed. You will also find Knoxie (and Trotski) sprinkled throughout the rest of this site, and I'm sure I'll do more Knoxie comics and stories, but this group should stand alone as a record of a particular time, place, and obsession.
A reminder: Knoxie himself is TM and © The Knoxage Water Company, San Diego, and is used by permission, while the comics, puzzles and stories shown here are © Peteykins, 1999-2000.
peteykins@REMOVETHISgmail.com